Workshop Program
Workshop Program
(updated on October 9, 2022)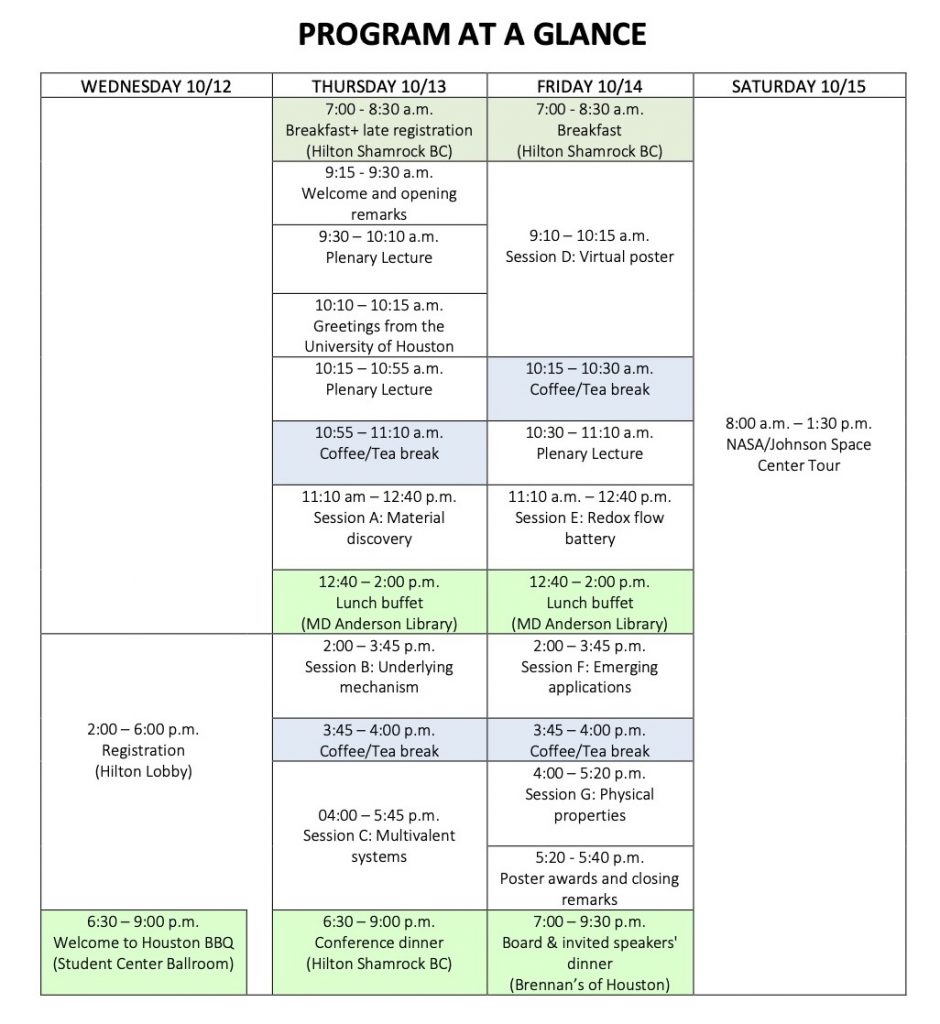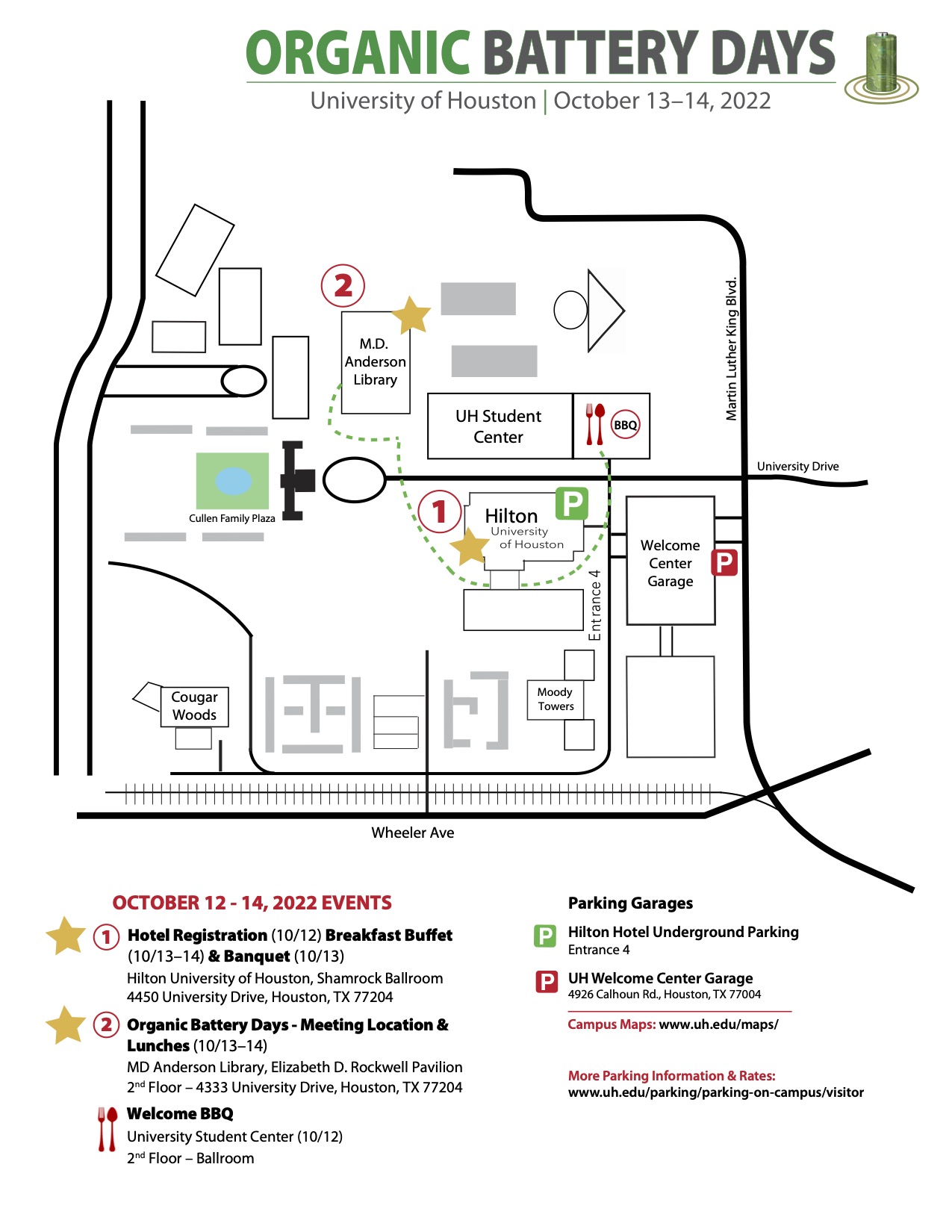 View the Direction in Google Map
OPTIONAL WORKSHOP ACTIVITIES: Saturday, October 15
1. HIDDEN GEM: Public art collection at the University of Houston
RSVP: sbutler@uh.edu; Free
10 – 15 participants will tour several masterpieces in the University's 700+-piece collection that began in 1969. The guided tour includes several paintings by Texas-born Dorothy Hood and innovative artwork from Carlos Cruz-Diez, Frank Stella, etc. A box lunch will be provided by the Texas Center for Superconductivity following the tour. Public Art University of Houston System.
and https://www.papercitymag.com/arts/university-houston-public-art-power-top-colleges-major-art/
https://www.khou.com/article/life/living-in-the-lone-star/hidden-gem-uh-art/285-8e7616cf-5b85-4d04-a907-8e541dffb7fa
2. NASA/Johnson Space Center's Space Center Houston
Space Center Houston/The Tram Tour: https://spacecenter.org/exhibits-and-experiences/nasa-tram-tour/  NOTE: Tickets are now TIMED ENTRY since COVID. Adult $29.95, Senior $27.95. To be eligible for the best group discount ($15.95 per ticket), U.H. must purchase a minimum of twenty (20) tickets and prepay seven days before the visit date. U.H. will provide transportation and escort to Space Center Houston, depending upon the numbers.
3. visiting a world-class Houston Museum
4. Towers & Trees AIA Walking Tour
The tour is led by the American Institute of Architects (AIA) Houston, 9:00 – 11:00 am, $15.00 per person. Towers and Trees, our newest downtown tour, will explore the magnificent architecture between Hermann Square and Discovery Green, as well as the changing dynamics of our downtown. We'll look at the partially realized civic center plan surrounding Hermann Square, the historic backbone of Main Street, the ambitious 1970 proposal that would become Houston Center, the internationally recognized icons from the skyscraper boom of the '70s and '80s, and Discovery Green, the newest catalyst for downtown development in Houston. Meets on the N.E. Corner of the Smith and McKinney St intersection, 901 Smith Street. Hobby Center Parking Garage and street parking are available in the area.
5. Private Houston Brewery Tour by Cart (Joyride Houston) October 14 and 15, 7:00 pm
With more than 40 breweries crafting unique blends across the city, it can be tough to know where to start.  Taste your way through Houston's beer and spirits scene! This cart tour is the best way to visit some of Houston's top breweries and/or distilleries. Sit back and relax with your friends while we take you to four Houston breweries and/or distilleries. Opportunities for a two-hour tour by electric cart of the Downtown Historic District Market Square are available via JoyRide. $57. pp, with a full refund before October 13. https://www.tripadvisor.com/AttractionProductReview-g56003-d16860871-Private_Houston_Brewery_Tour_by_Cart-Houston_Texas.html
6. Private Houston Mural Instagram Tour (Joyride Houston)
Explore Houston's colorful side and get a collection of Insta-worthy photos along the way. Pose in front of downtown's most vibrant street art, including hidden murals that even most locals don't know about. Stop At: Downtown Historic District Market Square, 301 Milam St, Houston, TX 77002-1618. While Houston is known for its culture, that's not the only art form you find in its streets. Our walls are covered with fresh, unique works of art everywhere you look. Update that profile pic with a great photo in front of a Houston mural. Cover lots of ground in an open-sided electric cart and get personalized attention and tips from your street-savvy guide on this private tour. $59.94 Max of 5 per group. Various times available.